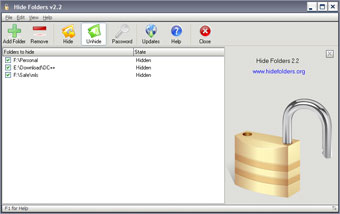 Hide Folders
is robust and powerful Windows application for hiding folders with private data. Hidden folders can not be accessed, viewed, searched or deleted. Other users will not be aware of their existence. There is no limits on number of folders to hide or on the file types, names, extensions or characters.
Hide Folders is released under GNU General Public License and is free for personal and commercial use.
Considerations and typical usage of Hide Folders
Windows have a folder lock security feature to help users protect data security. However, this integrated function has a lot of shortcomings, it is hardly usable on network because sys admin can easily view the content of the locked folders, anyone who has an access/login on your computer can open locked folders, it doesn't support FAT32 and it doesn't work on Home edition of Windows. Furthermore, locking folders means that all users that has access to your computers can still see those folders, they just can't open them to see files inside. Unfortunately that often opens a can of curiosity and with little searching on internet those unauthorized users can find a way to get around the protection and compromise your security by accessing your personal folders.
Hide Folders, on the other hand is not meant to lock the folders with predefined password, it is meant to simply HIDE them, so no one can even know of their existence. It is simply more efficient not letting anyone know that you even have some confidential folders on the first place. Secondly, you can password protect the application so no one can open Hide Folders to unhide your hidden folders. Remove the Hide Folders from the programs menu and 99% of people wouldn't even know that you have a folder hiding program installed on your system, yet knowing what and where those folders are. Trying to get access to a folders without knowing if they exist, their name and location is incredibly daunting task and for that matter Hide Folders in much safer that integrated Windows locking system.
Hide Folders is free application. It is simple, thoroughly tested and used many times. However, due to its simplicity it is not an all mighty solution for users that look for an absolute safety of a feature packed software. If that is your main concern you may want to pay for a commercial product (I highly recommend Folder Lock), if not for an added options and security alone, than for a support and upgrades I can not, due to the nature of free software, guarantee.
Hide Folders Features
Securely hide folders with your confidential data
Works on Windows XP and Windows Vista, supports NTFS, FAT32 and FAT file system.
Password protection - folders can be unhid only after entering a password within the program.
Hidden folders can not be uncovered by deinstalling the program.
Unlimited number of folders can be hidden.
Folders are hidden even in Windows safe mode.
Fast and user-friendly skinned user interface.
Intuitive for usage, no learning curve.



If you like this software and find it useful please link to this site to help it reach more people or make a small donation.